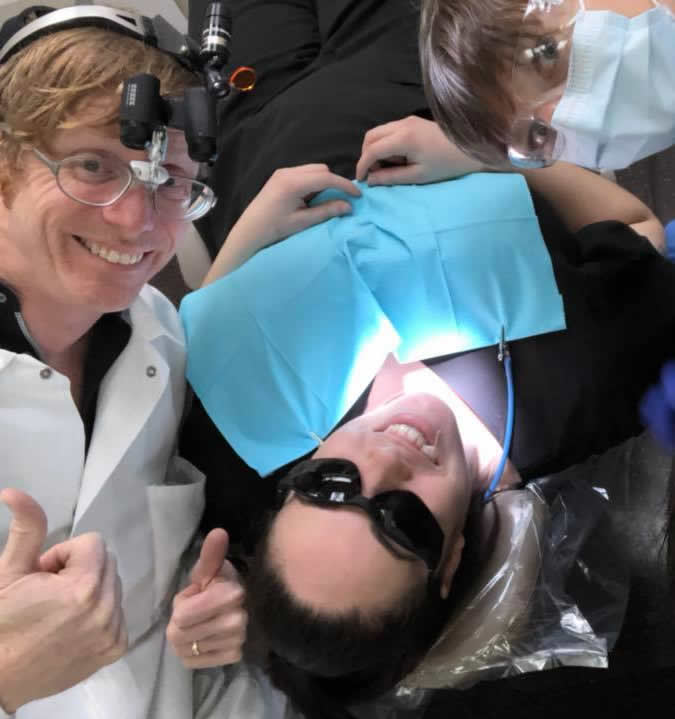 Douglas Whitfield DDS
Dr. Whitfield's dental career started in periodontal research with the Sonicare Company. He helped discover & patent several natural plant extracts used as antimicrobial agents in toothpaste and mouthwash. He also did research on tooth whitening agents and statistical studies involving the efficacy of the Sonicare toothbrush on gum disease. During his years at Sonicare, Dr. Whitfield helped manage several large-scale clinical trials following FDA guidelines.
He is one of only a handful of general dentists in the world who has this unique understanding of the possibilities for natural plant extracts and real world clinical efficacy.
He is able to quickly identify from a product's supporting information whether it was ever tested properly and if you should use it for your family. Dr. Whitfield has been published in several research journals
Qualifications
Dr. Whitfield graduated from the University of Washington with a degree in general dentistry. While attending the School of Dentistry he continued his interest in periodontal research and won an international award. Doctor Whitfield has a bachelor's degree in Cell Science and Microbiology from the University of Florida in 1991. His microbiology degree has helped form the foundation of his understanding of the bacterial etiology of caries (cavities) and gum disease. Continuing Education
Dr. Whitfield has taken continuing education on advanced Rotary Endodontics (root canal treatment), TMD-TMJ, Oral Surgery and Smile Design. Dr. Whitfield has a special interest in non-surgical treatment of periodontal disease and natural therapeutic treatments. Dr. Whitfield's approach emphasizes whole health and patient education. Dr. Whitfield's future continuing education will involve more TMD-TMJ and Full Mouth Reconstruction.
Affiliations
Dr. Whitfield is a member of the American Dental Association and the local chapter King County Dental Society. Dr. Whitfield is also a member of the Academy of General Dentistry. Dr. Whitfield is a member of the American Academy of Cosmetic Dentistry. Dr. Whitfield has recently become a member of the Southwest King County Chamber of Commerce.
Personal Background
Dr. Whitfield has lived in the northwest for over twenty years. He and his family enjoy exploring the northwest great outdoors. He is married to Michelle and they have one child Aidan. Dr. Whitfield is passionate about living healthy, with a healthy diet and exercise. He try's to earn his cheat meals! One of his biggest passions is ultramarathon running on trails. His longest trail run to date has been the Lake Sonoma 50 miler. Dr. Whitfield has been involved in various community groups over the years. Currently he is very active in Boy Scouts with his son.